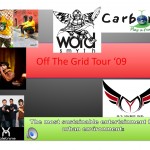 Carbon Day and MY Music collaborated on an exclusive tour that emphasizes sustainability, efficiency, and education for urban environments to prosper through difficult times.
Carbon Day, LLC wants to "play a part™" by working with strategic partners to support Carbon Day, LLC (a not for profit organization) on its music tour, "Off The Grid™".
The tour is the most sustainable tour in entertainment. Carbon Day promotes eliminating your carbon emissions and individual carbon footprint through various climate action plans such as: tree plantings and tracking with our international tree registry, recycling programs, city gardening, and other educational developments in schools, corporations, and government agencies globally.
The "Do It Yusef" project is the most unique opportunity in sustainable entertainment.  In each city, before, during, and after the performances we will record interviews, room tours, etc. from the GREEN room, where Malik transformed a typical dressing room into an environmentally friendly place, from the furniture to the lighting/floor to what the artist does to help reduce he and his road crew's carbon footprint and usage of other harmful materials.  The next opportunity is Carbon Day Automotive will provide a Smartlet Charging station in front of the venues property so electric car drivers will be able to plug their cars into the station while they go into the concert.
.
The tour will consists of a variety of artists and this year Carbon Day and MY Music will bring on the launch of Kanye West and Malik Yusef new album called "Good Morning, Good Night". Embrace The Future – ( Don't Fear It) We're in a recession but a transition towards Energy Independence-
Artists Websites:
www.MalikYusef.Com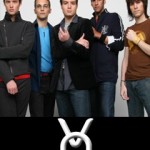 www.VioletNine.com
Sponsor Opportunity:
If you are looking to become a partner in this unique opportunity please click here carbon-day-sponsorship-opportunity1 for additional information
Cities:
Please visit the cities we will be attending by downloading this document off-the-grid-cities .  Dates are being finalized now but the tour will be launched in Chicago Setp 15th, 2009.  Venues to come at a later date!