Here's something you probably didn't know about the town of Elk Horn, Iowa: it has America's highest concentration of electric vehicle charging stations.
The Danish windmill in Elkhorn, behind a sign for a charging station
"Highest concentration" awards are relatively easy to come by when your population is 650. (Elk Horn also has the highest concentration of Danish immigrants; its residents say its interest in alternative energy derives from the homeland.) The town has four electric charging stations, one at a solar-powered service station, one in a parking lot, one at the hotel, and one by the Danish windmill, the town's greatest tourist attraction.
The charging stations came to Elk Horn last November thanks to Mike Howard, a 57-year-old local entrepreneur who owns two businesses that test and calibrate alternative energy devices. You might say that he is so far ahead of the curve that, looking back, the curve can't even be seen. Elk Horn itself only has four purely electric vehicles, and those all belong to Howard's own businesses. "We're our own best customers," admits Trevor Schroeter, a project manager at World Cal, one of Howard's companies. The chargers cost about $7,000 apiece, but a charge runs no more than $3.
While the idea of one charger per car might appear "ludicrous," says Schroeter, consider this: In the vast stretch of Interstate 80 running between Chicago and Denver, there was nowhere to charge an electric vehicle, unless you were going to bum some electricity off a stranger. Now there is. Electric charging stations can be found all over the state of California (the Bay Area alone has about 130 listings on this site), but in the Midwest, Elk Horn is an electric oasis.
Maybe that's why Howard and Schroeter are already planning on installing upgraded stations within the next month, capable of reducing the charging time from six hours down to three. They're also working with partners in Iowa, Illinois and Nebraska to expand the EV infrastructure there. The hope is that each new station will help diminish the "range anxiety" surrounding electric vehicles, which in their smaller and cheaper incarnations sometimes only get 40 miles to a charge.
Never mind that the cars aren't there yet. There's a saying about this, already associated with rural Iowa: If you build it, they will come.
The event will be held from 10 am to 3:00 pm.
Personal hybrid and all electric transportation of the near future, from trucks to bicycles, will be on display in Copley Square.  Creators, manufacturer's representatives, and owners will be on hand to answer questions and hand out information about their vehicles.  Learn about the future city network of charging infrastructure that will be available as well as what Smart Neighborhoods and the Smart Grid can do. Participants include MIT Electric Vehicle Team, ConVerdant Vehicles, National Grid, Wheego, Vectrix Corp., Segway of Boston,  MyBike, and  Massachusetts Department of Energy Resources – Clean Cities Coalition.
Free to the public, we invite area schools, businesses, and all interested people to come see what your electric personal transportation options look like.
Sponsored by Boston University Center for Energy and Environmental Studies and Clean Energy and Environmental Sustainability Initiative jointly with the Electric Vehicle Urban Infrastructure Study (EVUIS).
Retro-Fit with Carbon Day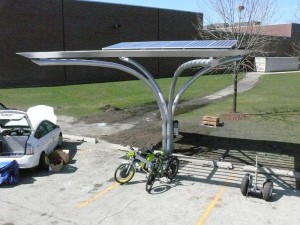 Carbon Day has partnered with Empact Developmentwhich is a full-service construction firm dedicated to
the construction of new buildings and retro-fit of existing buildings using environmentally friendly and sustainable materials which will help erase or neutralize any building's carbon footprint. Our construction and retro-fit program will provide our clients a "Green" approach to operate their assets while benefiting from energy cost savings.
Green Construction has a vast impact on the natural environment, human health, and the economy. By adopting green building strategies, we can maximize both economic and environmental performance. Green construction methods can be integrated into buildings at any stage, from design and construction, to renovation and deconstruction. However, the most significant benefits can be obtained if the design and construction team takes an integrated approach from the earliest stages of a building project.
Green construction is Evidence of a growing trend toward green building design and sustainable living is springing up all over Chicago, we are here to take full advantage of all the opportunities out there. Empact Development has created strategic partnerships with LEED accredited architects, third party authorized certified agents in conjunction with the USGBC, interior designers, landscape architects, manufactures, suppliers, In house project managers, and infinite amount of insured and qualified contractors who only practice Green Construction. We also have a procurement arm for all recyclable and green material/furniture. Empact has hired a grant writing team for our clients to enjoy the tax credits and subsidies on a federal, state, and city level. So not only improve the quality of life for your home and or business, improve your bottom line and enjoy the benefits that are out there for going "GREEN"
Retro-Fit Benefits:
To Owners and Tenants:
Lower Utility Bills
Healthier living and work environment
Reduced Maintenance Cost
Increase Properties Appreciation
Increase Resale Value
Beneficial Mortgage Programs
To Local Municipality:
Strengthen community programs
Demonstrate Environmental Leadership
Preservation of Local Quality of Life
To Builders:
Lower Waist Removal Cost
Reduce amount of use of materials
Increased Marketing potential
To the Environment:
Greenhouse Gas Reduction
Improved Water Quality
Improved Air Quality
Decreased Carbon Footprint
Steps to Success
Establish a vision that embraces sustainable principles and an integrated design approach.
Develop a clear statement of the project's vision, goals, design criteria, and priorities.
Develop a project budget that covers green building measures. Allocate contingencies for additional research and analysis of specific options.
Seek sponsorship or grant opportunities.
Seek advice of our design professional with green building experience and implement schematic drawings.
Select a design/build team that is committed to the project vision. Modify the RFQ/RFP selection process to ensure the contractors have appropriate qualifications to identify, select, and implement an integrated system of green building measures.
Develop a project schedule that allows for systems testing and commissioning.
Develop contract plans and specifications to ensure that the building design is at a suitable level of building performance.
Create effective incentives and oversight.
Green building measures cannot achieve their goals unless they work as intended. Building commissioning includes testing and adjusting the mechanical, electrical, and plumbing systems to ensure that all equipment meets design criteria. It also includes instructing the staff on the operation and maintenance of equipment. Over time, building performance can be assured through measurement, adjustment, and upgrading. Proper maintenance ensures that a building continues to perform as designed and commissioned.
Green Applications
Solar Applications
Wind Turbines
Energy efficient low wattage lighting and lighting design
Radiant heat
Tank-less on demand water heaters
Geo-Thermal Heating
Green Construction Options
Recyclable countertops
Water efficient plumbing fixtures
High efficiency, Star Rated HVAC systems
Recyclable insulation
LOW VOC paint
Sustainable flooring systems
Energy Star rated appliances
Please Contact
Elliot Offenbach

800 W Huron Suite 4E
Chicago, IL 60642

Direct: 847-977-9929
ElliotO@CarbonDay.com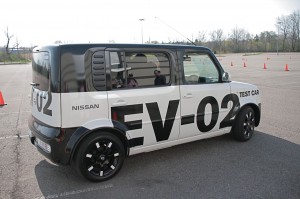 The DOE loan that Nissan applied for to help it build electric cars and advanced batteries is likely to be approved for $1.1 billion, according to a report that cited "unidentified sources" in Kyodo News. The loan will probably speed up Nissan's already fast-moving electric car program that is moving forward across the globe. Some of the U.S. city and state governments that are working with Nissan on EVs include Raleigh, Phoenix, Tucson, California; Tennessee; and Seattle. The DOE money would be used to upgrade the company's Smyrna, Tenn., assembly plant and build a new facility for battery production.
The loan would come from the Advanced Technology Vehicle Manufacturing Incentive Program (AVTM) fund, a $25 billion pot that the DOE set aside to help automakers get more efficient vehicles to market. Green Car Advisor says that Nissan is also asking the Development Bank of Japan for another $1.1 billion loan and has already borrowed half that much from the Japanese government.
http://www.autobloggreen.com/2009/05/28/nissans-1-1-billion-loan-likely-to-be-approved-by-doe/
Trees are the longest living organisms on the planet and one of the earth's greatest natural resources. They keep our air supply clean, reduce noise pollution, improve water quality, help prevent erosion, provide food and building materials, create shade, and help make our landscapes look beautiful. Here are some more thought-provoking facts and figures about our oldest citizens and living treasures…trees!
The shade and wind buffering provided by trees reduces annual heating and cooling costs by 2.1 billion dollars.
Each average-sized tree provides an estimated $7 savings in annual environmental benefits, including energy conservation and reduced pollution.
A single tree produces approximately 260 pounds of oxygen per year. That means two mature trees can supply enough oxygen annually to support a family of four!
Water originating in our national forests provide drinking water for over 3400 communities, and approximately 60 million individuals.
One tree can absorb as much carbon in a year as a car produces while driving 26,000 miles.
Over the course its life, a single tree can absorb one ton of carbon dioxide.
An average American uses about 750 pounds of paper every year, and 95% of homes are built using wood. That means each person uses the equivalent of one 100 foot tall, 16 inch diameter, tree every year for their paper and wood product needs.
About one third of the United States of America is covered by forests.
According to the last forest inventory, there are almost 247 billion trees over 1 inch in diameter in the U.S.
The average tree in an urban/city area has a life expectancy of only 8 years.
The tallest tree in the country is a Coast Redwood growing in northern California's Redwood National Park. It is 369 feet tall and over 2000 years old!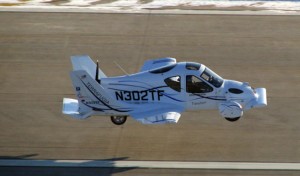 A Boston startup is confounding naysayers with a plane that combines the ease of driving with the thrill of flying, and it could shake up the industry by ushering in a new wave of recreational aviation.
Terrafugia's unusual aircraft just made a 30-second test flight as historic as it was brief, proving that flying cars aren't as outlandish as you might think. But as much as people might want to call the Transition a flying car, Terrafugia insists it's actually an airplane you can drive.
"We're excited by the reality of what we're doing here, but this is not the start of the flying car," company CEO Carl Dietrich told Wired.com. "This is a light sport plane that can be driven home after a day of flying and parked in the garage. It's designed for pilots. That's our target market."
Inventors, engineers and crackpots have been promising promising flying cars since the 1920s. The Aerocar is perhaps the most famous and successful attempt, but it is hardly the only one. All of the Big Three automakers have considered them at one time or another. Boeing toyed with them. And everyone from the Naval Air Warfare Weapons Division to guys in their garages have pitched ideas for flying machines we can drive to the airport.
They've all been beaten to the punch by Terrafugia, which has already received 49 orders for a $194,000 plane it won't start delivering until 2011.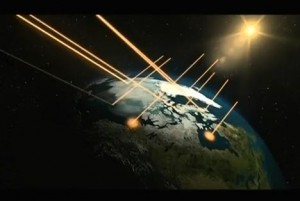 We mentioned earlier today that NASA has new data showing the Arctic sea ice is thinner as well as there is simply less of it. Posted today on YouTube is a simulation from NASA on Arctic sea ice changes. The 2009 Arctic sea ice maximum extent (the amount of sea ice covering the Arctic at the end of each winter) has just been reached – and there isn't a whole heck of a lot of it. Click through to see how this year rates with previous years.
The video shows some incredible simulations of the melting ice shelf, then goes on to a narration of how information was gathered.
This Car has Good Karma
Fisker Automotive is getting closer to launching the Karma plug-in hybrid, a car with a powertrain that works on a principle similar to the GM Volt: It's 100% electric for the first 50 miles, and after that a gasoline engine kicks in to recharge the battery (but the gas engine never directly powers the wheels). But to get to full production, it needs money, which is why it raised an extra $85 million in venture capital from New York-based Eco-Drive (Capital) Partners LLC, a European-American investment consortium, and Kleiner Perkins Caufield and Byers, an early investor in Fisker.