Carbon Day Automotive is a market leader in electric vehicle charging infrastructure. As a master distributor for Coulomb Technologies, we have industry leading experience utilizing premiere technology with thousands of charging stations installed on our network.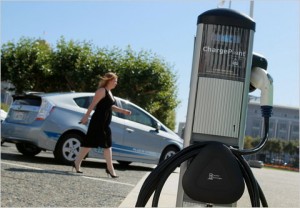 All stations are powered by the ChargePoint Network, providing real-time station location, status, and driver/host interaction. Owners of stations can set real time pricing at their own preference and collect the revenue from charging sessions. Drivers receive real-time SMS/Email notifications about charging status.
Here's something you probably didn't know about the town of Elk Horn, Iowa: it has America's highest concentration of electric vehicle charging stations.
The Danish windmill in Elkhorn, behind a sign for a charging station
"Highest concentration" awards are relatively easy to come by when your population is 650. (Elk Horn also has the highest concentration of Danish immigrants; its residents say its interest in alternative energy derives from the homeland.) The town has four electric charging stations, one at a solar-powered service station, one in a parking lot, one at the hotel, and one by the Danish windmill, the town's greatest tourist attraction.
The charging stations came to Elk Horn last November thanks to Mike Howard, a 57-year-old local entrepreneur who owns two businesses that test and calibrate alternative energy devices. You might say that he is so far ahead of the curve that, looking back, the curve can't even be seen. Elk Horn itself only has four purely electric vehicles, and those all belong to Howard's own businesses. "We're our own best customers," admits Trevor Schroeter, a project manager at World Cal, one of Howard's companies. The chargers cost about $7,000 apiece, but a charge runs no more than $3.
While the idea of one charger per car might appear "ludicrous," says Schroeter, consider this: In the vast stretch of Interstate 80 running between Chicago and Denver, there was nowhere to charge an electric vehicle, unless you were going to bum some electricity off a stranger. Now there is. Electric charging stations can be found all over the state of California (the Bay Area alone has about 130 listings on this site), but in the Midwest, Elk Horn is an electric oasis.
Maybe that's why Howard and Schroeter are already planning on installing upgraded stations within the next month, capable of reducing the charging time from six hours down to three. They're also working with partners in Iowa, Illinois and Nebraska to expand the EV infrastructure there. The hope is that each new station will help diminish the "range anxiety" surrounding electric vehicles, which in their smaller and cheaper incarnations sometimes only get 40 miles to a charge.
Never mind that the cars aren't there yet. There's a saying about this, already associated with rural Iowa: If you build it, they will come.
The event will be held from 10 am to 3:00 pm.
Personal hybrid and all electric transportation of the near future, from trucks to bicycles, will be on display in Copley Square.  Creators, manufacturer's representatives, and owners will be on hand to answer questions and hand out information about their vehicles.  Learn about the future city network of charging infrastructure that will be available as well as what Smart Neighborhoods and the Smart Grid can do. Participants include MIT Electric Vehicle Team, ConVerdant Vehicles, National Grid, Wheego, Vectrix Corp., Segway of Boston,  MyBike, and  Massachusetts Department of Energy Resources – Clean Cities Coalition.
Free to the public, we invite area schools, businesses, and all interested people to come see what your electric personal transportation options look like.
Sponsored by Boston University Center for Energy and Environmental Studies and Clean Energy and Environmental Sustainability Initiative jointly with the Electric Vehicle Urban Infrastructure Study (EVUIS).
View Planted Trees
Carbon Day's goal is to continuously plant trees daily, monthly, and annually to replenish the planet's resources and increase them exponentially.
Carbon Day would also like it if you would volunteer to register the trees you or anybody else has planted on Earth Day, Arbor day or any day in our international tree registry. We will be able to keep track of every tree that is planted and to follow the growth to gauge the effects on the environment each year. Foresters and local municipalities also have access to the information so they can see what is being planted in their backyards.
By H. JOSEF HEBERT and DINA CAPPIELLO
WASHINGTON (AP) — President Barack Obama is pressing again for passage of legislation that would confront the problem of global warming head-on.
Speaking in the Rose Garden of the White House, Obama said Washington must not miss the opportunity to work on cleaning the air and at the same time creating new "green" energy jobs. He called the measure "a jobs bill" and said the country for far too long has been too reliant on energy from fossil fuels.
The White House has seemed concerned that momentum for the bill is slipping away. Obama said "I know this is going to be a close vote because there is misinformation out there." He spoke as House Democratic leaders scurried to line up enough votes to get the bill passed there, possibly as early as Friday.
Republicans largely oppose the bill before House members, arguing that it amounts to a massive energy tax.
This page is currently under construction.
Please pardon our dust!
 
 

There are many simple ways to reduce the footprint you leave on the planet. Learn how to reduce your footprint in each consumption category–carbon, food, housing, and goods and services—but don't stop there. Amplify your impact by encouraging others to follow your lead. Engage your friends and community with local and global movements for social change, or start your own movement!

 

Reduce your Carbon Footprint

 

Use Cleaner Transport

 

Walk, bike, or take public transit whenever possible.

Avoid allowing your car to idle. If you'll be waiting for more than 30 seconds, turn off the engine (except in traffic). And don't take the drive-through. Park the car and walk inside instead.

Have your vehicle serviced regularly to keep the emission control systems operating at peak efficiency. Check your car's air filter monthly, and keep the tires adequately inflated to maximize gas mileage.

Avoid short airplane trips—take a bus or train instead.

 

Add Energy-Saving Features to your home

 

Install compact fluorescent bulbs in all your home light fixtures—but remember, compact fluorescents contain mercury, so look for low-mercury models and be sure to dispose of old bulbs safely through your local hazardous waste program.

Weatherproof your home. Make sure your walls and ceilings are insulated, and consider double-pane windows. Eliminate drafts with caulking, weather strips, and storm windows and doors.I

nsulate your water heater. Even better, switch to a tankless water heater, so your water will be heated only as you use it.

Choose energy efficient appliances.

 

Adopt Energy-Saving Habits

 

Keep thermostat relatively low in winter and ease up on the air conditioning in summer. Clean or replace dirty air conditioner filters as recommended to keep the A/C operating at peak efficiency.

Unplug your electronics when not in use. To make it easier, use a power strip. Even when turned off, items like your television, computer, and cell-phone charger still sip power.

Dry your clothes outside whenever possible.

Make minimal use of power equipment when landscaping.

Defrost your refrigerator and freezer regularly.

Choose green electricity. Many utilities give you the option to purchase electricity generated by wind and solar power for a small rate surcharge.

Purchase carbon offsets to make up for the energy use you can't eliminate.

 

Reduce your Food Footprint

 

Eat more local, organic, in-season foods.

Plant a garden—it doesn't get more local than that.

Shop at your local farmer's market or natural foods store. Look for local, in-season foods that haven't traveled long distances to reach you.

Choose foods with less packaging to reduce waste.

Eat lower on the food chain—going meatless for just one meal a week can make a difference. Globally, it has been estimated that 18% of all greenhouse gas emissions are associated with meat consumption.

 

Reduce your Housing Footprint

 

Choose sustainable building materials, furnishings, and cleaning products.

Explore green design features for your building, like passive solar heating, a rainwater catchment or grey water recycling system, and recycled materials.

Choose efficient appliances, including low flow shower-heads, faucets, and toilets.

Choose furnishings that are second-hand, recycled, or sustainably produced.

Plant drought tolerant plants in your garden and yard.

Use biodegradable, non-toxic cleaning products.

 

Adopt Water-Saving Habits

 

Take shorter, less frequent showers—this not only saves water, but the energy necessary to heat it.

Don't use the garbage disposal. Compost instead.

Run the dishwasher and the laundry machine only when full.

Wash cars rarely, or better yet, take them to a carwash. Commercial carwashes use less water per wash than home washers, and they are also required to drain used water into the sewage system, rather than storm drains, which protects aquatic life.

Avoid hosing down or power-washing your deck, walkways, or driveway.

Regularly look for and fix leaks.

Turn off the water when you brush your teeth. If everyone did this simple step we would save the equivalent of the great lakes every year.

Buy a rain barrel to capture excess rain from the gutters which can be used to water your garden.

 

Reduce your Goods and Services Footprint

 

Buy less! Replace items only when you really need to.

Recycle all your paper, glass, aluminum, and plastic. Don't forget electronics!

Compost food waste for the garden. Garbage that is not contaminated with degradable (biological) waste can be more easily recycled and sorted, and doesn't produce methane gases (a significant greenhouse gas contributor) when stored in a landfill.

Buy recycled products, particularly those labeled "post-consumer waste."

 

 

 

 

 

 

 

 

 

 

 

 

 

 

 
 

The Topic:

Reduce – Reuse- Recycle
To recycle means to process old, used items in order that the material can be used to make new products. Examples of things that are often recycled are glass, plastic, newspapers, aluminum cans, used motor oil, and batteries. Here, reduce refers to lessening the amount of items or resources that are consumed, using only the amount that is needed, and looking for alternatives that will lessen our use. And reuse means extending the 'life' or repurposing an item rather than discarding or throwing it away.
Recycling is the processes of collecting, processing, remanufacturing, and reusing materials instead of discarding them. This helps conserve raw materials and energy that manufacturers would otherwise use in producing new products. Recycling also reduces the amount of material going into landfills. Recycling helps lessen the pollution that may result from waste disposal. Reducing our consumption of materials and reducing the waste of materials also adds to the conservation of our resources.
Internet Consumer Recycling Guide
http://www.obviously.com/recycle/
This recycling guide provides a starting point for consumers in the USA and Canada searching the net for recycling information. The goal is to help make recycling so easy and automatic that it blends into the flow of everyday life.
Related Websites:
2) Consumer's Handbook for Reducing Solid Waste from U.S. Environmental
Protection Agency http://www.epa.gov/epaoswer/non-hw/reduce/catbook/index.htm
3) Eco-Speak: A User's Guide to the Language of Recycling
http://environment.miningco.com/library/weekly/blcons4.htm
4) Trash Matcher from Imagination Factory
http://www.kid-at-art.com/htdoc/matchtmp.html
5) Waste Book (Online guide) http://www.recycle.mcmail.com/
6) Waste Facts from Project Integra http://www.integra.org.uk/facts/main.html
7) World's Shortest Comprehensive Recycling Guide
http://www.obviously.com/recycle/guides/shortest.html
Recycle City from the Environmental Protection Agency
http://www.epa.gov/recyclecity/
Learn how recycling reduces waste and saves money. Find out where all the garbage goes. Also play the 'Dumptown Game.'
Related Websites:
2) Ollie Recycles http://www.ollierecycles.com/
3) Roscoe's Recycle Room http://www.recycleroom.org/html/launch.html
4) Reduce, Reuse, and Recycle from the Environmental Protection Agency
http://www.epa.gov/epaoswer/non-hw/muncpl/reduce.htm#recycle
5) Solid Waste and Recycling from King County Kids Web
http://www.metrokc.gov/dnr/kidsweb/solid_waste_main.htm
6) Quick Lesson in Recycling from Planet Pals
http://www.planetpals.com/EDrecyclethings/recycle_lesson.html
Virtual Recycling from Manitoba Product Stewardship Corporation
http://www.virtualrecycling.com/
This website provides recycling information and resources for teachers and students.
Related Websites:
2) EcoRecyle Victoria (Australia) http://www.ecorecycle.vic.gov.au/
3) Pennsylvania's Recycling Page from the Department of Environmental Protection
http://www.dep.state.pa.us/dep/deputate/airwaste/wm/recycle/Recycle.htm
4) Why Do We Recycle? from the City of Phoenix, Arizona
http://www.ci.phoenix.az.us/GARBAGE/whyrecyc.html
Waste Reduction Tips from Vermont Clean State Initiative
http://www.anr.state.vt.us/dec/wastediv/csc/Waste.htm
Here you find tips for reducing waste at home, at work, and everywhere else.
Related Website:
2) Recycling Loop: Buying Recycled from GreenWorks (Download the video)
http://www.greenworks.tv/wastemanagement/recycling_loop.htm
Websites Related To Recycling
http://www.americarecyclesday.org/
This event day provides incentives to communities, large and small, to promote recycling in their community. Make the pledge to recycle, buy recycled products, and send a HenryCycle eCard on November 15.
Not-To-Be-Missed Section:
2) Proven Success – Stories from Schools and Community Groups
http://www.cancentral.com/success.htm
Anti-Recycling Myths by R.A. Denison and J.F. Ruston from Environmental Defense
http://www.environmentaldefense.org/article.cfm?ContentID=558&Page=1
Using 'Recycling is Garbage' as a case study, this paper examines the arguments made by the anti-recyclers, correcting factual errors and over-generalizations, offering additional data and perspective, and acknowledging the few kernels of truth in their arguments.
Related Websites:
2) Five Most Dangerous Myths About Recycling from Institute for Local Self-Reliance
http://www.grn.com/library/5myths.htm
3) Is Recycling a Waste? by Mark Fearer http://www.nexuspub.com/july97/recycle.htm
4) Recycling Is Garbage by J. Tierney http://www.nrdc.org/cities/recycling/recyc/appenda.asp
5) Talking Trash: Recycling is Under Attack by A. Horrigan and J. Motavalli from
Environmental Magazine http://www.emagazine.com/march-april_1997/0397feat1.html
6) Too Good To Throw Away from Natural Resources Defense Council
http://www.nrdc.org/cities/recycling/recyc/recyint.asp
Doing More At Work: Recycling Guide for Business from Greater Vancouver Regional District
http://www.gvrd.bc.ca/services/garbage/workplace/RGB/Recycling%20Guide%20For%20Business.html
This guide (pdf) helps to take a closer look at your recycling program, you can make it more efficient and cost-effective.
Related Websites:
2) Industrial Waste – Ideal Fertilizer? from The Why Files http://whyfiles.org/063recycle/toxic.html
3) Recycling Programs in the Workplace http://environment.about.com/library/weekly/blrcy1.htm
4) Reducing Waste in the Workplace http://www.moea.state.mn.us/campaign/workplace/
5) Smart Ideas on Recycling from The Why Files http://whyfiles.org/063recycle/good_idea.html
6) Workplace Recycling from Green Nature http://greennature.com/article.php?sid=11
7) Workplace Recycling Program http://www.carolina-regional.com/library/recycling.htm
This is a mega-site site dedicated to recycling-related information.
Not-To-Be-Missed Section:
2) Recycling Educational Resources (Links-page) http://grn.com/library/educational.htm
Other Global Recycling Websites:
3) European Recycling and the Environment http://www.tecweb.com/recycle/eurorec.htm
4) Recycler's World http://www.recycle.net/recycle/index.html
Recycling Position Paper by R. Grindel, C. Snover, and K. Hopkins
http://grn.com/library/position.htm
This 1997 article provides a general overview of recycling.
Other Online Articles On Recycling:
2) Cultural Economies of Waste by G. Hawkins, University of New South Wales
http://www.arts.monash.edu.au/projects/cep/knowledges/hawkins.html
Reducing Household Waste in Local Landfills by J.H. Lloyd from North Carolina Cooperative Extension Service
http://www.bae.ncsu.edu/bae/programs/extension/publicat/wqwm/he379.html
Learn about source reduction, one of many names for the idea of making responsible decisions that reduce the amount of household waste.
Related Website:
2) Reusing Kitchen and Laundry Products – Home Tips
http://environment.miningco.com/library/weekly/blrcy8.htm
Rotten Truth About Garbage from Association of Science-Technology Centers Inc. & Smithsonian Institution Traveling Exhibition Service
http://www.astc.org/exhibitions/rotten/rthome.htm
This online exhibition takes an in-depth look at the complex issues surrounding municipal solid waste.
Related Websites:
2) Recycling's Down in the Dumps by C.Welch from The Seattle Times
http://seattletimes.nwsource.com/html/localnews/134390788_recycle14m.html
Recycling Materials
Automobile Recycling Alternatives: Why Not?
http://www.npcr.org/reports/npcr1057/npcr1057.html
This report addresses the current status of the automobile recycling industry, with a focus on the environmental and economic implications of developing technologies.
Related Websites:
2) Automobile Recycling from Georgia Tech Research Institute
http://www.srl.gatech.edu/education/Recycle/Overview.html
3) Car Recycling from Waste Watch http://www.wastewatch.org.uk/informtn/carrec.htm
4) Fiscal Incentive Aid Car Recycling from Massachusetts Institute of Technology
http://web.mit.edu/newsoffice/tt/1994/may04/36537.html
5) Myth of Automobile Battery Recycling by M. Cobbing and S. Divecha from
Greenpeace http://www.things.org/~jym/greenpeace/myth-of-battery-recycling.html
6) Steel–Driving Automobile Recycling Success
http://www.recycle-steel.org/cars/main.html
http://www.batteryrecycling.com/
Demand for batteries in the U.S. is projected to increase 5.8% every year through 2002. In 1998 there were over 3 billion industrial and household batteries sold in the United States alone. This demand for batteries will continue.
Related Websites:
2) Battery Council International http://www.batterycouncil.org/recycling.html
3) Battery Recycling from Waste Watch http://www.wastewatch.org.uk/informtn/batteries.htm
4) Recycle Your Rechargeable Batteries from Rechargeable Battery Recycling
Corporation http://www.rbrc.org/
Can Central Recycling from Can Manufacturers Institute
http://www.cancentral.com/environ4.htm
Cans are the most-often recycled packaging in America. Here you learn about recycling of steel and aluminum cans.
Related Websites:
2) Aluminum Can & Foil Recycling from Waste Watch
http://www.wastewatch.org.uk/informtn/alumin.htm
3) Aluminum Can Recycling from Alupro http://www.alupro.org.uk/
4) Aluminum Recycling from International Aluminum Institute
http://www.world-aluminium.org/environment/recycling/
5) Beverage Container Recycling: Reverse Vending Machines
http://environment.miningco.com/library/weekly/aa091000.htm
Composting from the U.S. Environmental Protection Agency
http://www.epa.gov/epaoswer/non-hw/muncpl/compost.htm
Composting is the controlled decomposition of organic materials, such as leaves, grass, and food scraps, by microorganisms. The result of this decomposition process is compost, a crumbly, earthy-smelling, soil-like material.
Related Websites:
2) Backyard Composting from Earth 911
http://www.earth911.org/master.asp?s=lib&a=organics/composting/joy/comp_backyard.inc
3) Compost Resource Page http://www.oldgrowth.org/compost/
4) Composting from EcoRecycle http://www.ecorecycle.vic.gov.au/aboutus/infosheet_compost_a.asp
5) Composting and Earth Information Resources On The Web from Global Recycling
Network http://grn.com/library/compost.htm
6) Composting as Part of a Family Recycling Program http://environment.miningco.com/library/weekly/aa121700.htm
How Is Paper Recycled? from Paper University
http://www.tappi.org/paperu/all_about_paper/earth_answers/Recycle1.htm
Learn all about paper recycling and the environment.
Related Websites on Paper Recycling:
2) Marketing Used Paper from The Why Files http://whyfiles.org/063recycle/paper2.html
3) Paper from Environmental Systems of America
http://envirosystemsinc.com/paper.html
4) Paper Please http://www.afandpa.org/kids_educators/paper.cfm
5) Paper Recycling from Georgia-Pacific http://www.gp.com/EducationalinNature/topics/pr.html
6) Paper Recycling Trends in the United States
http://environment.miningco.com/library/weekly/aa022397.htm
7) Paper Recycling: Success With Corrugated Boxes
http://environment.miningco.com/library/weekly/aa021701a.htm
Paper Recycling's Realities at The Why Files http://whyfiles.org/063recycle/paper.html
9) Recycled Paper: Plenty Available – Now Let's Use It! by G. Gleason, S. Kinsella, & V.
Mills http://www.environmentaldefense.org/documents/1059_Kinsellapaper%20reprint.pdf
10) Recycling from the Pulp & Paper Information Centre
http://www.ppic.org.uk/htdocs/info/recycle/recycle.htm
11) Shopping for Recycled Paper http://www.ecomall.com/greenshopping/paper.htm
12) Treecycle Recycled Paper: Issues and Information http://treecycle.com/info.html
13) Why Recycle? from Paper University
http://www.tappi.org/paperu/all_about_paper/earth_answers/Whyrec1.htm
Paper or Plastic from the Film and Bag Federation
http://www.plasticbag.com/environmental/pop.html
Making a good choice for the environment is no longer as simple as knowing whether or not a product can be recycled. Recycling is just one of three very important factors to consider. See how plastic bags stack up in each of these areas: reduce, reuse, and recycle.
Related Websites:
2) How is Plastic Recycled? by V. Carrillo http://crystal.biol.csufresno.edu:8080/projects97/92.html
3) Plastic from Environmental Systems of America
http://envirosystemsinc.com/plastic.html
4) Plastics and Recycling from Plastics New Zealand Incorporated
http://www.plastics.org.nz/environment/recycle.htm
5) Plastics Identification Guyide from Spokane Solid Waste http://www.solidwaste.org/reccodes.htm
6) Plastics Recycling from EcoRecycle http://www.ecorecycle.vic.gov.au/aboutus/infosheet_plastic.asp
7) Plastics Recycling: A Consumer's Perspective
http://environment.miningco.com/library/weekly/aa030898.htm
Plastics Resource from American Plastics Council http://www.plasticsresource.com/
Recycling from Glass Packaging Institute
http://www.gpi.org/Recycling.html
Ensuring a steady supply of recycled glass, or cullet, has become crucial to the industry's success because using recycled glass reduces energy consumption, raw materials use, and wear and tear on machinery.
Related Websites:
2) British Glass http://www.recyclingglass.co.uk/
3) Glass Recycling http://www.aim-irl.com/greenguide/glass.htm
4) Glass Recycling from Newton's Apple
http://www.eecs.umich.edu/mathscience/funexperiments/agesubject/lessons/newton/GlssRecycl.html
5) Glass Recycling http://www.britglass.co.uk/recycling/
Used Motor Oil Collection and Recycling from American Petroleum Institute
Motor oil doesn't wear out – it just gets dirty.
Related Websites:
2) Collecting Used Oil for Recycling/Reuse from Pennzoil Company and U.S.
Environmental Protection Agency
http://www.pueblo.gsa.gov/cic_text/cars/oilreuse/oilreuse.htm
3) Don't Be a Dipstick! Recycle Used Oil http://www.state.tn.us/environment/dca/oil.htm
4) Used Motor Oil Recycling from City of Chicago
http://www.ci.chi.il.us/Environment/SolidWaste/UsedMotorOil.html
Websites For Teachers
All Wrapped Up (Grades 4-6)
http://www.epa.gov/grtlakes/seahome/housewaste/quiz/cornel13.htm
Packaging accounts for 10-15% (and sometimes more than 50%) of the cost of a product and approximately 1/3 of what goes into a family's trash can.
Related Activity:
2) Packaging Project (Grades 7-12) http://www.epa.gov/grtlakes/seahome/housewaste/quiz/wisc2.htm
Aluminum Beverage Cans: The ABCs Environmental Education from Can Central
http://www.cancentral.com/canc/nontext/toc.htm
Here you find a guide for teachers that includes lesson plans, activities, and almost everything you will need for your unit on recycling.
Composting: A Great, Rotten Idea (Grades 7-9)
http://www.epa.gov/grtlakes/seahome/housewaste/quiz/cornel25.htm
When we mention "recycling," we often think of recycling glass bottles, aluminum cans, and newspaper. But another 30% of the household garbage we throw out also can be recycled.
Eco-Marketing Project from Landmarks for Schools
http://www.landmark-project.com/eco-market/
Students working in teams of three or four, will develop ideas and appropriate prices for imaginative new products that they believe people of their age would buy and that contain at least 50% recycled materials.
Mini-landfills (Grades 4-6)
http://www.epa.gov/grtlakes/seahome/housewaste/quiz/wisc1.htm
The goal of this exercise is to look at several typical household items, determine whether they are made of renewable or nonrenewable resources and observe what happens when they are placed in a landfill.
Paper Recycling (Grades 4-5) from Georgia-Pacific
http://www.gp.com/EducationalinNature/teachers/pr.html
Here you find a guide for study topics and discussion related to recycling paper.
http://whyfiles.org/004antarctic/teacher4/recycling.html
This lesson contains lots of discussion and activity ideas.
Plants From Trash (Grades K-3)
http://www.epa.gov/grtlakes/seahome/housewaste/quiz/cornel10.htm
Nature is the best recycler. Some plants even 'recycle' themselves. New plants can grow from plant seeds, and in some cases, from parts of plants.
Used Motor Oil Recycling from Department of Environmental Protection, Pennsylvania
http://www.dep.state.pa.us/dep/deputate/enved/Rec_Lessons/motor.htm
Student will gain an awareness that used motor oil is a resource to be recycled rather than discarded. They will be able to identify locations where used motor oil may be recycled.
http://www.epa.gov/grtlakes/seahome/housewaste/quiz/miss1.htm
This exercise is two teams of one or more players and is played similar to the game show Jeopardy.
---